CV
Name
George Dinos
Position
Associate Professor
email
dinosg@upatras.gr
telephone
+302610996125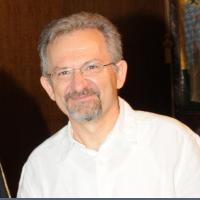 Academic Position
Asspciate Professor of Biochemistry
Εducation and Positions
BSc., in Chemistry, Univ. of Athens 1979
PhD in Biochemistry, School of Medicine, Univ. of Patras 1995
Research Interests
Ribosome biogenesis
Development of inhibitors for ribosome biogenesis
Combined functional and crystal structure studies of new ketolides effective against macrolides resistant strains
Representative publications
1. Dinos G, Wilson D, Teraoka Y, Fucini P, Kalpaxis D and Nierhaus K. (2004) "Dissecting the inhibition mechanisms of edeine and pactamycin: Antagonistic interplay on the ribosome between these translational inhibitors" Moll Cell 13: 113-124.
2. Petropoulos A, Kouvela E, Dinos G, and Kalpaxis D (2008) Stepwise Binding of Tylosin and Erythromycin to Escherichia coli Ribosomes, Characterized by Kinetic and Footprinting Analysis. J Biol Chem 283(8):4756-65.
3. Petropoulos AD, Kouvela EC, Starosta AL, Wilson DN, Dinos GP and Kalpaxis DL (2008) Time-resolved binding of azithromycin to Escherichia coli ribosomes. J Mol Biol. 385:1179-1192.
4. Kouvela EC, Kalpaxis DL, Wilson DN, and Dinos GP (2009) A distinct mode of interaction of a novel ketolide antibiotic that displays enhanced antimicrobial activity. Antimicrob Agents Chemother. 53:1411-1419.
5. Krokidis MG, Kostopoulou ON, Kalpaxis DL, and Dinos GP. (2010) Dissecting the ribosomal inhibition mechanism of a new ketolide carrying an aryl-alkyl group at C-13 of its lactone-ring. International Journal of Antimicrobial Agents, 35:235-239.
download CV in PDF